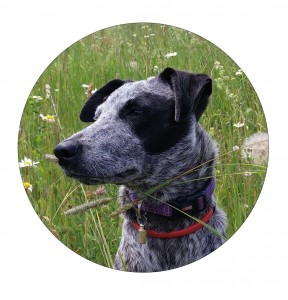 Lyla is a rescue dog from the Dominican who's fate brought her to the farm last February. As far as we can tell, she is mostly whippet with some blue heeler thrown in to the mix. She was found on the streets alongside her 4 siblings and her dead mother.  The day after she arrived in Canada it was minus 30 degrees celsius. A bit of a shock to her 5 month old system! She was a trooper though and braved it out through the rest of the winter while melting our hearts.
Lyla now embraces farm life in Canada and loves to frolic in the snow in winter while wearing the latest in whippet gear and dive in the pond in summer. Whippets aren't supposed to even like water! She has been known to cuddle with her feline "brothers" and has come to an understanding with her aging grumpy feline "sister". The guineas? Well, they are pretty tempting to chase up into the trees from time to time!
Lyla hopes to meet you when you come to the farm and visit!